Sometimes Indesign has lost track of its placed images. You or someone you work with may have moved or renamed the folder where they were sitting or maybe they were linking to a drive that is no longer available. You can always relink them one by one, and if they're all in the same folder that's not a problem for Indesign to automatically update them all.
But what if your images are scattered in many different subfolders like in an image library? As long as you still have those images somewhere on your system, Indesign Image Relinker can quickly find and relink them. It's a great way to relink images that may be currently in a collected folder, back to files within an image library.
Install the script in your Indesign script folder and double click on it from your scripts panel. A dialog box appears and depending on the status of your links, it will present you with up to 3 options. You can choose to relink all, only the missing, or only the selected images.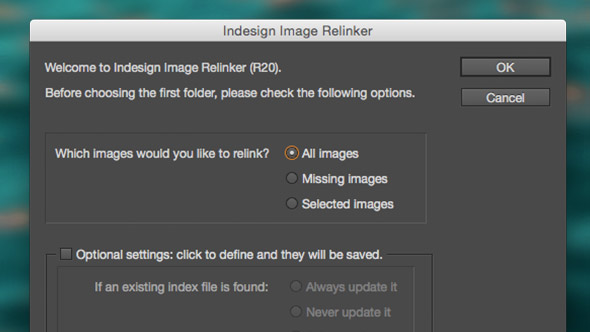 If there are no missing images or selected images, the dialog box will only give you one option, that is to relink all images.
The script will first ask you to nominate one or more top level folders. It will then make a list of every subdirectory contained within each top level folder and look for the images you want to relink within all of those subfolders. After it has made the list of subdirectories, the script saves this as an index file in the top level directory. This file can then be loaded next time by the script to make file relinking faster. As long as the folder structure hasn't changed, the index file will still be accurate. Otherwise you may choose to update the index file.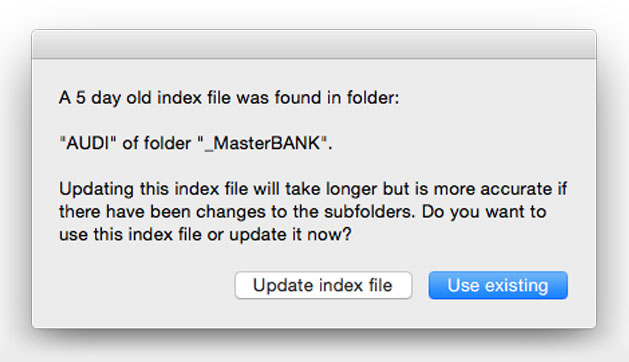 The index file is stored as a small script file in each of your selected top level directories. When you run the script a second time and it finds an index file, it will ask you if you want to use it or update it. On the first run of the script, it will take longer while it makes a record of every sub directory. But on subsequent times if you use the index file, the relinking will be done much faster. This is really useful when you want to relink multiple files to the same folder hierarchy. The index file only stores the subdirectories not the files – so you only need to update the index file if new directories are added or if directory names have been changed.
Progress bars show the relinking status.


What about modified images?
Indesign Image Relinker can help you manage multiple copies of images that it finds links while updating. If it finds the same named image with a different modification date from the original, the script will display a dialogue box asking you whether you want to use it or not. If you are relinking to a folder of updated images, you can just click on the accept button for every case. Otherwise if you are unsure, the script gives you the chance to try it out and if it looks wrong then you can undo the relink for that image.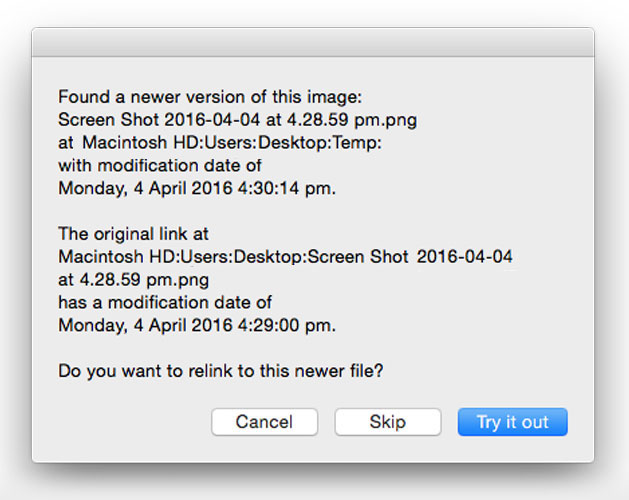 If you undo the relink, the script will continue looking for another match for that image until it either finds a match or has searched all the directories.
Extra features
Works with linked text files and spreadsheets too. Indesign has the option to place text files and spreadsheets as a link. This means that changes in the original documents will be reflected in the Indesign document. If these links get lost, Indesign File Relinker can also find and relink them just like image files.
Smart file matching. When Indesign collects a file it often duplicates the images giving them a different modification date. This previously caused the script to think the file had been updated when it was really only a duplicate copy. Now the script compares the file size in bytes and if it's the same then it is safe to assume it is a duplicate file. This means less interruptions in updating with fewer false positive messages about modified links.
Super fast indexing of subdirectories. Thanks to the magic of Unix shell scripting, the process for indexing the subdirectories is super quick. The script has also been streamlined to make relinking much faster than before.
Optional settings that get saved with the script. See below for details.
Optional settings
There are some optional settings that you can specify that will be remembered for the next time you run the script. Click on the checkbox to activate this panel.
The first optional setting is to tell the script how it should handle existing index files. You can choose to always update, never update or ask every time. Depending on the number of subdirectories, it may take from seconds to minutes to build an index file. This is why using an existing index file can save you time. Also depending on how often the folder structure changes, you may not need to re-index for some time.
The second check box allows you to ignore the modification dates of files that the script finds. Sometimes if you wish to relink to newer or older files of the same name, it may be useful to ignore the modification dates of these files before relinking.
The third optional setting allows you to choose to only ever be asked for a single top level folder instead of multiple ones.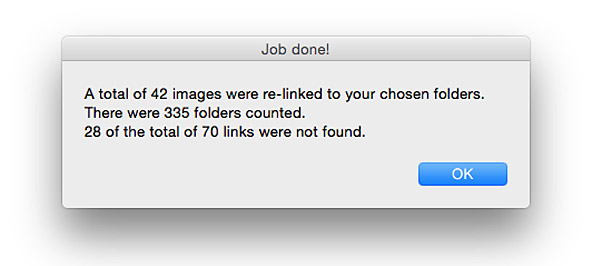 Mac only! Note this is an AppleScript for using on a Mac.
A simplified PC version has been developed but lacks the advanced features like the progress bar, index file and checking of modification dates.
Download the simplified PC version for $14.95
Buy now and receive free updates for life.
What if you only need to update the name of one folder or server for all the link locations?
A new script has been created on drscripto.com that does a similar job, only much faster. It's called the Indesign Search and Replace Link Paths script. It's like this script only it's designed to change the file paths of your existing links. For example, if you change the name of the server where you keep all your work, all your Indesign links will become missing. The script can rename all the link paths from the old place to the new place. It can also be used to update to differently named versions of your files. Get more details from here.